Ladakh: To further attract tourists who wish to visit Ladakh during winters, the Ladakh Tourism Department, Adventure Sports Authority and UT Administration have joined hands to promote Ladakh as a winter and enterprise sports hub.
Before the campaign, an exhibition horse polo match was held but it was played on snowy grounds. The game was played as a practice and test match for the upcoming Kargil winter campaign. After the introduction of ice hockey and ice skating, now the UT administration plans to introduce more adventure activities to promote sports and attract tourism.
Administration planning big projects
Traditionally offered only as a summer tourist destination. Ladakh is all set to change its image in the near future. The administration is planning big projects in Ladakh which include winter adventure camps to attract tourists even during winters.
Under this scheme, Ladakh Tourism and Ladakh Adventure Sports have joined hands to promote Ladakh as a winter tourist destination. The administration in Ladakh has announced the start of a unique Kargil winter campaign this year. The unique culture of the region including traditional food, song and dance as well as sports will be introduced during the campaign to attract more and more tourists.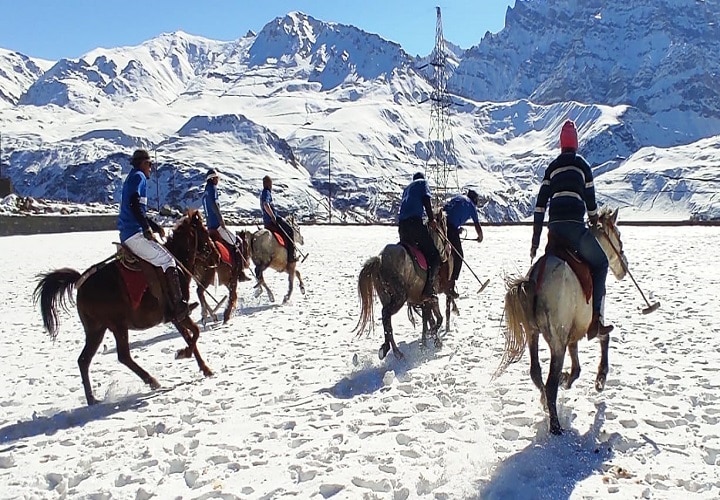 All 10 polo teams ready to plan on ice – polo players
Famous polo player and head of adventure tourism in Kargil, Mohammad Amin Polo said that although snow polo is started on trail basis as we want to start new sport in Kargil but we are facing difficulties in procuring equipment.
Amin said, "The sticks and balls used in snow polo are special and have to be imported from Europe. We are trying our level best to get the necessary equipment and all the 10 polo teams in Ladakh plan on snow. ready to make."
polo played in some countries
It is pertinent to mention here that snow horse polo is played only in a few countries which include Switzerland, USA, Austria and some other western countries. At the same time, it is now being introduced as a tourist attraction in Dras, the second coldest inhabited place in the world.
Horse polo players and organizers are very motivated and motivated to develop Drass as an adventure tourism destination, being the traditional sport of Drass. Adventure sports enthusiasts and people associated with tourism industry are requesting both district administration and union territory administration to provide them proper infrastructure and equipments, organize national and international level tournaments to take the sport to a level. can be done.
Read this also.
Mamata Banerjee Delhi Visit: Mamta Banerjee will meet PM Modi on November 24, will hold talks on many matters including Tripura violence
Punjab Election 2022: CM Kejriwal announces, will give one thousand rupees per month to every woman in Punjab